Facilities
1. Hunter Wheel Alignment Machine with Rotary Hoist Lift
Wheel Alignments/ Tyres/ Balancing along with Mechanical Suspension Work. Mechanical only relates to Suspension related items.
2. Dedicated 2 car bay wash and ducted vacuum area.
3. 2 x Revolution Car benches from USA with a true 10 tonne pulling capability

4. Specially made wheelable boxed trolleys for your parts to be safely moved
5. A separate clean/covered area for parts removed from cars.
6. Gas fired Lowbake & Marini Baking Ovens (full down draught pressurised cabins) for that 2-pack factory finish and Lowbake Dust Extraction/Infared Preparation Bays

7. Chief Electronic Measuring System

8. Specialised Welders to suit all NEW metals in late model vehicles.
9. Onsite Air Conditioner Degas/Regas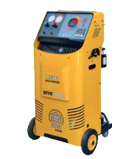 10. Two Post Car Hoist
11. Security
With a 24 hour monitored alarm system and security camera surveillance you can be assured your vehicle is safe.